Image 15 of 20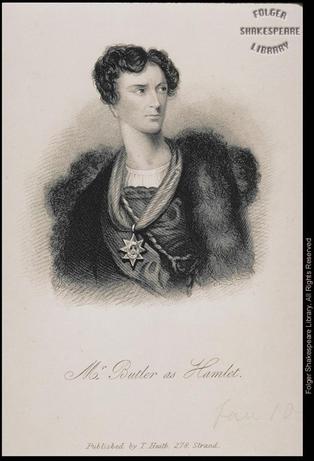 (Click on image to get enlarged view.)

Description: Portrait of Samuel Butler (1797-1845) as Hamlet. Half length. Slightly to left, facing and looking to right. He has short curly hair. Around his neck on a broad ribbon he wears a star-shaped insignia with the order of the Elephant. He appears to be wearing fur-trimmed cloak.

Folger Act/Sc/L: n/a
Arden Act/Sc/L: n/a
TLN: n/a

Artist: Anonymous
Artist (Original work): Anonymous
Date: 1831 ?
Date (Original work): 1831 ?
Medium: Engraving (line and stipple - unsigned and undated)
Size: 10 x 9.5 cms; 4 x 3 3/4 in (21.5 x 16cms; 8 1/2 x 6 1/4 full plate)
Actor: Butler, Samuel
Production:

Location: FSL. PR2755 K7 A2 Copy 5 v.5 Sh. Coll. From extra-illustrated THE PICTORIAL EDITION OF THE WORKS OF SHAKSPERE, edited by Charles Knight (London: Charles Knight, nd), opp. p. 109.