Image 1 of 12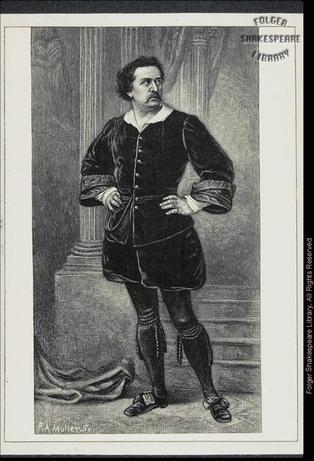 (Click on image to get enlarged view.)

Description: Portrait of Charles Albert Fechter as Hamlet. Full length, standing, facing right, hands on hips, his left leg slightly bent at knee. Behind him, steps, three columns, and drapery, suggestive of indoor setting.

Folger Act/Sc/L: n/a
Arden Act/Sc/L: n/a
TLN: n/a

Artist: Muller, R[obert A[ntoine]
Artist (Original work): Anonymous
Date:
Date (Original work):
Medium: Engraving (signed) (poss. photoreprod. of engraving of photo)
Size: 16.2 x 11 cms; 6 5/16 x 4 5/16 in (25.5 x 17.2 cms full sh)
Actor: Fechter, Charles Albert
Production:

Location: FSL. Art Vol. d34, no. 33.