Image 6 of 8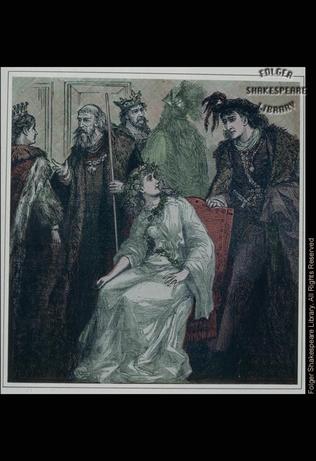 (Click on image to get enlarged view.)

Description: At centre on a red chair is seated Ophelia (Ellen Terry 1848-1928) in white dress. There are flowers woven in her hair and around her waist. She is posed to left but her head is turned to right, and she looks up at what appears to be Hamlet, who stands at right, slightly behind her chair and with his right hand resting on its back (is this Hamlet or Laertes?). Immediately behind Ophelia, his back to viewer, is older man in plumed helmet (the Ghost?) who is facing Claudius (only a foot or two separates them). To left of centre stands Polonius, leaning on his staff of office. He faces to left and addresses Gertrude at extreme left who has her back partially to viewer. Appears to be a composite of various characters.

Folger Act/Sc/L: n/a
Arden Act/Sc/L: n/a
TLN: n/a

Artist: Anonymous
Artist (Original work): Anonymous
Date:
Date (Original work):
Medium: Engraving (woodcut) coloured
Size: 15.3 x 14.6 cms; 6 x 5 3/4 in
Actor: Irving, Henry
Production:

Location: FSL. Art Flat a26 no. 76.