Image 8 of 8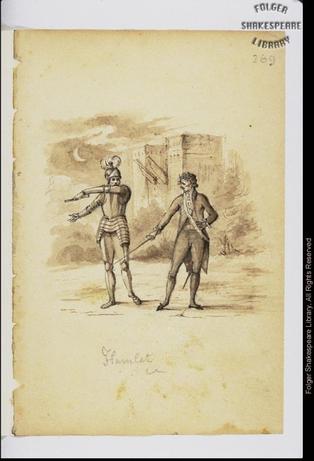 (Click on image to get enlarged view.)

Description: In background the castle and crescent moon, both details reminiscent of Gravelot's design (db#49). The Ghost at left, full length, forward, points with both arms to left as though urging Hamlet to follow him. Again, there is a similarity with the Gravelot design. Hamlet at right stands with drawn sword in right hand, its point towards ground at left. His left hand is upon his hip. He wears eighteenth-century dress, with breeches and tail coat.

Folger Act/Sc/L: n/a
Arden Act/Sc/L: n/a
TLN: n/a

Artist: Gear, J.W.
Artist (Original work): Anonymous
Date:
Date (Original work):
Medium: Ink drawing
Size: 6 x 7 cms; 2 1/4 x 2 3/4 in
Actor:
Production:

Location: FSL. Art Vol. c38 no. 269. From SHAKESPEARE ILLUSTRATIONS.