Image 11 of 32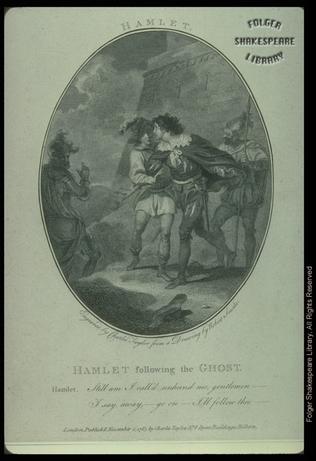 (Click on image to get enlarged view.)

Description: Quotation at foot begins: 'Still am I call'd: unhand me, gentlemen.' To left as though descending towards the sea is the Ghost in armour and plumed helmet. His back is to the viewer but he looks over his right shoulder back at Hamlet and beckons with his raised right hand. Upon the raised ground below the castle walls, Hamlet (in doublet, breeches, hose, short cape, elaborate collar) attempts to follow, but he is restrained by Horatio, who stands between him and the Ghost, and Marcellus who stands behind Hamlet. Hamlet's hat lies on the ground in the foreground of the picture as though dislodged in the scuffle. The scene is back-lit by the moon which is obscured by clouds.

Folger Act/Sc/L: 1.4.94
Arden Act/Sc/L: 1.4.84
TLN: 671.00

Artist: Taylor, Charles
Artist (Original work): Smirke, Robert
Date: 1783
Date (Original work):
Medium: Engraving (signed)
Size: 15.3 x 11.6 cms; 6 x 4 9/16 in (oval) (22.2 x 16.3 full pl)
Actor:
Production:

Location: FSL. Art File S528h1 no. 3. Published 1 Nov. by Charles Taylor, London.