Image 18 of 32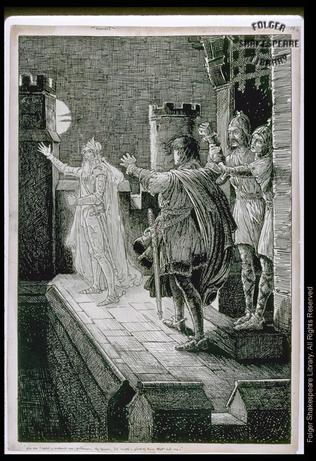 (Click on image to get enlarged view.)

Description: Quotation in border begins: 'Still am I called.' The platform, castle walls and a gatehouse at the rear. The scene is lit by a partially-obscured full moon at rear left. Hamlet stands to right of centre, closest to viewer. His back is to the viewer, both arms extended and feet apart as he sees the Ghost. He wears a knee-length tunic and a cloak. Further to the rear in front of Hamlet and to the left of centre is the Ghost, side on to the viewer. He wears armour and a helmet with the visor up. He seems almost transparent. He is facing left and his right arm is extended as though indicating the direction in which Hamlet should follow him. To the right of Hamlet in a doorway are two soldiers (they wear helmets). They each hold Hamlet's right arm as though to restrain him from following the Ghost.

Folger Act/Sc/L: 1.4.94
Arden Act/Sc/L: 1.4.84
TLN: 671.00

Artist: Rhead, Louis
Artist (Original work): Rhead, Louis
Date: n.d.
Date (Original work):
Medium: Pen and ink
Size: 49 x 33 cms; 19 3/8 x 13 in ( 51.5 x 35 cms - full sheet)
Actor:
Production:

Location: FSL. Art Box R469 no. 98.