Image 13 of 32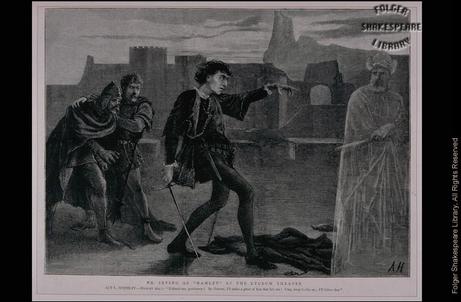 (Click on image to get enlarged view.)

Description: Henry Irving as Hamlet, Tom Mead as the Ghost, George Neville as Horatio, Frank Clements as Marcellus in 1874 production by Irving at Lyceum Theatre, Irving's first Hamlet. At centre on battlements, Hamlet in black with drawn sword appears to be about to follow Ghost. Hamlet's left arm is extended in front of him in the direction of the Ghost. The phantom-like Ghost stands at the right, half-turned back toward Hamlet. At Hamlet's feet, between him and the Ghost, is his cloak. At the far left, not touching Hamlet, are Marcellus and Horatio, leaning forward and holding each other as if in fear.

Folger Act/Sc/L: 1.4.94
Arden Act/Sc/L: 1.4.84
TLN: 671.00

Artist: H., A.
Artist (Original work): Anonymous
Date: 1874
Date (Original work):
Medium: Engraving (wood) (signed 'A.H.' but undated)
Size: 22.5 x 30 cms; 8 7/8 x 11 3/4 in
Actor: Irving, Henry
Production: Lyceum, 1874.

Location: FSL. Art Flat a26 no. 66; LTM Beard f89-18. Published 14 Nov. 1874 in THE GRAPHIC, p. 477.