Image 26 of 32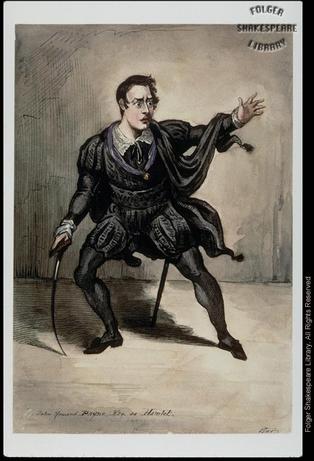 (Click on image to get enlarged view.)

Description: Portrait of John Howard Payne (1791-1852) as Hamlet. This is a version of a picture of Edmund Kean playing Hamlet at the Theatre Royal, Drury Lane in 1814. In effect only the head has been changed. Full length, standing, feet wide apart, forward, facing slightly right. He has a distraught look on his face. He wears dark doublet, breeches and hose. His left arm is extended before him in the direction off right in which he is staring. His right hand holds his drawn sword, the point of which touches the ground. He wears black doublet, breeches and hose, and has a lace collar. Around his neck on a purple ribbon is a miniature or a chivalric order. He appears to be about to follow the ghost, regardless of his companions' concerns, but no other figure is visible. At foot is inscription: 'John Howard Payne, Esq. as Hamlet.'

Folger Act/Sc/L: 1.4.95
Arden Act/Sc/L: 1.4.85
TLN: 672.00

Artist: Flor
Artist (Original work): Flor
Date: 1813
Date (Original work):
Medium: Watercolour (signed 'Flor' and dated 'Liverpool 1813')
Size:
Actor: Payne, John Howard
Production: Liverpool (July 1813).

Location: FSL. Art Box F632 no. 1.