Image 20 of 32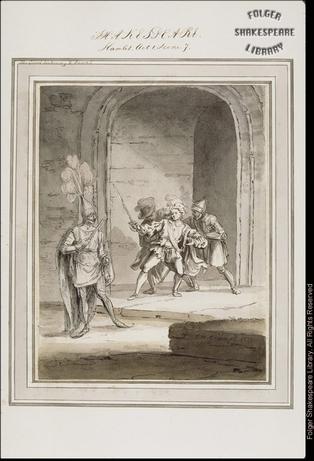 (Click on image to get enlarged view.)

Description: In left foreground stands Ghost, with legs apart, forward, but head turned over left shoulder. He wears full plate armour with plumed helmet, the visor up. In his right hand, he holds a truncheon. At centre rear, below an arch, Hamlet with raised drawn sword is restrained from following the Ghost by two figures, the one on the left in a plumed hat (Horatio?) and the one on the right in a helmet (Marcellus?).

Folger Act/Sc/L: 1.4.94
Arden Act/Sc/L: 1.4.84
TLN: 671.00

Artist: Grimm, Samuel Hieronymous
Artist (Original work): Grimm, Samuel Hieronymous
Date: 1770
Date (Original work): 1770
Medium: Pen and ink wash (signed and dated)
Size: 23.8 x 19 cms; 9 1/2 x 7 3/8 in (pasted into frame drawn on page)
Actor:
Production:

Location: FSL. PR2752 1802 c.2 Vol. 9 Sh. Coll (extra-illustrated copy of The Dramatic Works of Shakspeare, rev. George Steevens (London: Bulmer for Boydell, 1802).