Image 24 of 32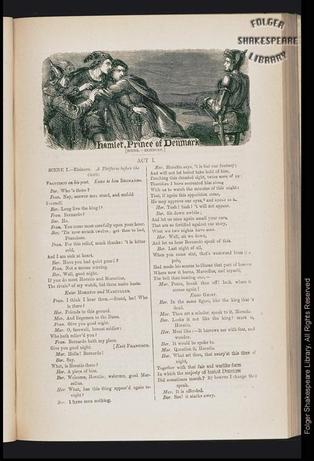 (Click on image to get enlarged view.)

Description: Head-piece to Act 1, showing Hamlet at left, three-quarter length, standing, to right, being restrained by Horatio and Marcellus from moving to right where stands the Ghost. This latter wears plate armour, a spiked helmet with the visor up. At foot of picture is title: 'Hamlet, Prince of Denmark.'

Folger Act/Sc/L: 1.4.94
Arden Act/Sc/L: 1.4.84
TLN: 671.00

Artist: Evans, E. ?
Artist (Original work): Cuichard ?
Date: 1882 ?
Date (Original work): 1882 ?
Medium: Engraving (wood) (unsigned and undated)
Size: 5.8 x 12 cms; 2 1/4 x 4 3/4 in
Actor:
Production:

Location: FSL. PR2755 P3 B6 Sh. Coll. THE COMPLETE WORKS OF WILLIAM SHAKESPEARE, ed. Samuel Phelps, 2 vols. (London: Ward, Lock & Co., [1882]), Vol. 1, p. 435.