Image 22 of 32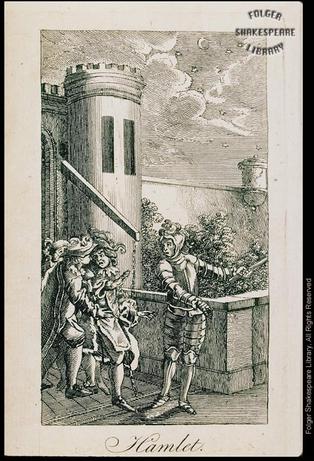 (Click on image to get enlarged view.)

Description: Before a drawbridge (at left) to the castle. The Ghost to right of centre, in armour and plumed helmet with visor raised, gestures with both arms for Hamlet to follow him off to the right. His left foot is pointing in that direction, and his head is turned back towards Hamlet over his right shoulder. Hamlet in contemporary 18th-century dress still stands on the drawbridge but is restrained from following the Ghost by Horatio who gestures with his arms in front of Hamlet. Unusual is the fact that Hamlet is looking at Horatio rather than at the Ghost. Marcellus, barely visible, stands behind. The scene is illuminated by the crescent moon at top right.

Folger Act/Sc/L: 1.4.94
Arden Act/Sc/L: 1.4.84
TLN: 671.00

Artist: Anonymous
Artist (Original work): Gravelot, Hubert Francois
Date: 1776 ?
Date (Original work):
Medium: Engraving
Size: 11.1 x 6.5 cms; 4 3/8 x 2 1/2 in
Actor:
Production:

Location: FSL. PR2807 1776 Sh. Coll. HAMLET, PRINCE OF DENMARK: A TRAGEDY. AS IT IS NOW ACTED AT THE THEATRES-ROYAL IN DRURY-LANE AND COVENT-GARDEN (London: Sold be W. Oxlade, 1776), frontispiece.