Image 8 of 32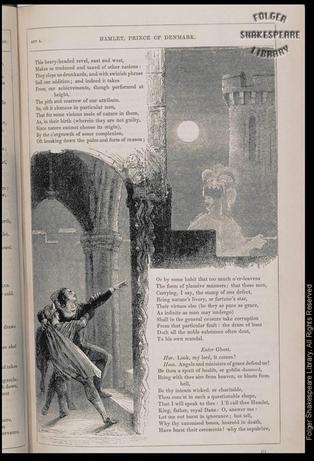 (Click on image to get enlarged view.)

Description: At left is Hamlet, pointing upwards to right with his left arm. Horatio and Marcellus attempt to restrain him. Mounting a stone staircase upon the battlements to the right is the Ghost. He wears a plumed helmet and has turned his head over his right shoulder to look at Hamlet, while pointing off to the right with his truncheon. Behind in the background is the full moon.

Folger Act/Sc/L: 1.4.88
Arden Act/Sc/L: 1.4.80
TLN: 665.00

Artist: Smith, Orrin
Artist (Original work): Meadows, Kenny
Date: 1843
Date (Original work):
Medium: Engraving (wood) (signed)
Size: 21 x 13.5 cms; 8 1/4 x 5 3/8 in (irregular)
Actor:
Production:

Location: FSL. PR2752 1843al Sh. Coll. THE WORKS OF SHAKSPERE, introd. Barry Cornwall London: Robert Tyas, 1843), Vol. 2, 151.