Image 33 of 42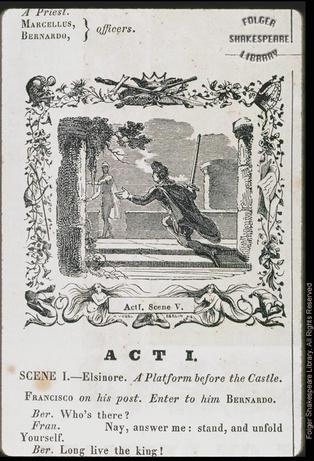 (Click on image to get enlarged view.)

Description: The Ghost at left on the the platform at Elsinore beckons Hamlet, who holds a drawn sword, to follow him. Hamlet at centre has his back to the viewer and appears to be on one knee at top of two steps. His sword is raised above his head in the air. His left arm is extended to the left towards the Ghost.

Folger Act/Sc/L: 1.5.2
Arden Act/Sc/L: 1.5.1
TLN: 682.00

Artist: Vogel, A. (Berlin)
Artist (Original work): Thurston, John
Date: 1837 ?
Date (Original work):
Medium: Engraving (wood) (signed but undated)
Size: 4 x 4.8 cms; 1 1/2 x 2 in (6.3 x 6.5 cms with decorative border)
Actor:
Production:

Location: FSL. PR2752 1837b Sh. Coll. THE COMPLETE WORKS OF SHAKSPEARE ... WITH NEARLY 270 ENGRAVINGS (Leipzip: Baumgartner, 1837), p. 954.