Image 1 of 30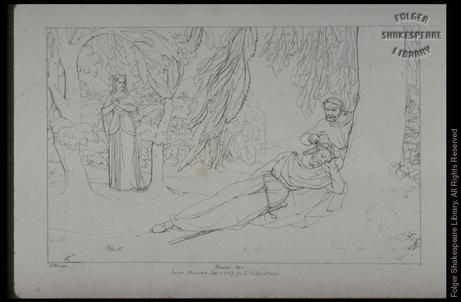 (Click on image to get enlarged view.)

Description: In a grove of trees, King Hamlet sleeps beneath a tree at right. From behind the tree and bending over him, leans Claudius and pours poison in the king's ear. To the left among the trees, her hands crossed over her breast stands Gertrude. This is an imagined depiction of the murder of King Hamlet as described in I v. It is especially intriguing in that Gertrude is a witness to the murder. The dress of the characters is medieval in character.

Folger Act/Sc/L: 1.5.42
Arden Act/Sc/L: 1.5.35
TLN: 722.00

Artist: Howard, Frank
Artist (Original work): Howard, Frank
Date: 1827 (1 Sept.)
Date (Original work):
Medium: Engraving (signed and dated)
Size: 9.5 x 15 cms; 3 3/4 x 5 7/8 in
Actor:
Production:

Location: FSL. Art File S528h1 no. 151 pt. 1; SC (extra-illus. copy of Knight's PICTORIAL SHAKESPEARE, after p. 112).