Image 15 of 30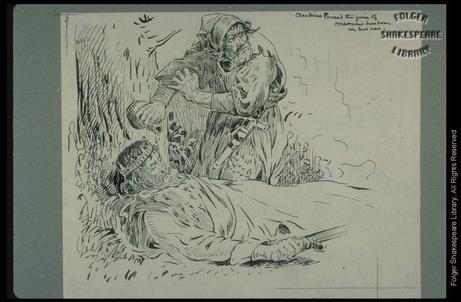 (Click on image to get enlarged view.)

Description: Imagined scene based on Ghost's story. The trunk of a tree at left. Sleeping beneath it is a crowned man who holds his drawn sword in his right hand. Bending over him at centre and pouring poison into his ear is the murderer. The written caption at top is: 'Claudius poured this juice of poisonous henbane in his ear.'

Folger Act/Sc/L: 1.5.69
Arden Act/Sc/L: 1.5.62
TLN: 747.00

Artist: Rhead, Louis (?)
Artist (Original work): Rhead, Louis (?)
Date: n.d.
Date (Original work):
Medium: Pen and ink.
Size: 10.8 x 12.2 cms; 4 1/2 x 4 3/4 in (21.5 x 13.8 cms full sheet)
Actor:
Production:

Location: FSL. Art Box R469 no. 34.