Image 30 of 30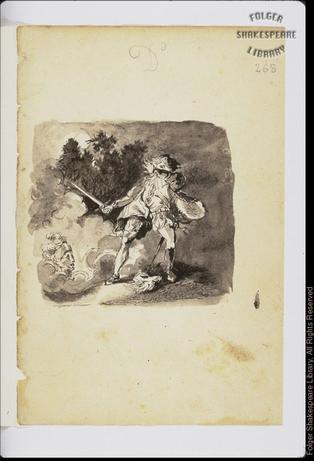 (Click on image to get enlarged view.)

Description: The Ghost apparently disappearing into the ground at left foreground (only his head and plumed helmet are visible, illuminated and surrounded by clouds or vapours). Hamlet, legs apart and hat fallen on ground in front of him, stares in horror, his hands raised in terror. He wears doublet, breeches and hose and holds his drawn sword in his right hand. He stands facing the viewer. Behind him is some foliage back-lit by the moon.

Folger Act/Sc/L: 1.5.98
Arden Act/Sc/L: 1.5.91
TLN: 776.00

Artist: Gear, J.W.
Artist (Original work): Loutherbourg, Philippe Jacques de
Date:
Date (Original work): 1788 (or prior)
Medium: Ink drawing
Size: 5.8 x 6.5 cms; 2 1/4 x 2 5/8 in
Actor:
Production:

Location: FSL. Art Vol. c38 no. 268. From SHAKESPEARE ILLUSTRATIONS.