Image 2 of 3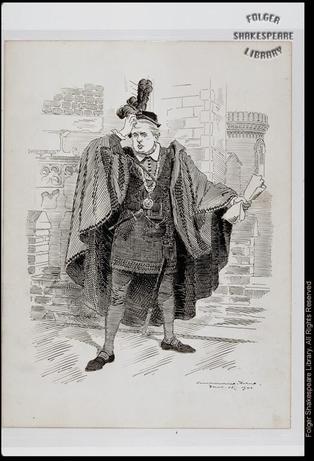 (Click on image to get enlarged view.)

Description: Hamlet on platform before walls of castle. Full length, standing, forward, legs apart, facing slightly to left. He holds his right hand to his forehead. His left arm is extended to right. In his left hand he holds some paper. Hamlet has short hair and is clean-shaven. He wears a tunic, black plumed hat, and long cloak. He has both sword and dagger, and around his neck hangs a chivalric order or miniature. The identity of the scene represented is most probably the moment when Hamlet is alone after the Ghost has left him. In his agitated state, he says that he should record the villanies that have just been revealed to him.

Folger Act/Sc/L: 1.5.114
Arden Act/Sc/L: 1.5.107
TLN: 792.00

Artist: Sambourne, Edward Linley
Artist (Original work): Sambourne, Edward Linley
Date: 1901 (13 June)
Date (Original work):
Medium: Ink
Size: 27 x 21 cms; 10 5/8 x 8 1/4 in
Actor:
Production:

Location: FSL. Art Box S187.5 no. 2.