Image 16 of 19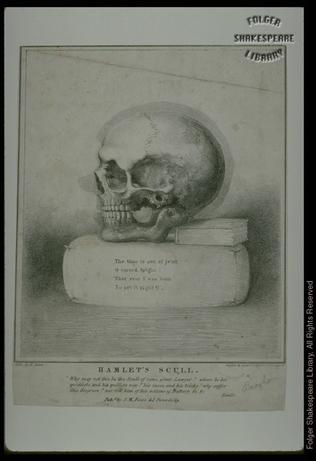 (Click on image to get enlarged view.)

Description: Hamlet's skull, according to the title at the base. A skull and a book are placed on a rectangular pillow. On the side of the pillow facing the viewer is the inscription 'The time is out of joint \ O cursed Spight! \ That ever I was born \ To set it right!' Below the title at the bottom of the sheet is another quotation, beginning 'Why may not this be the Scull of some great Lawyer? ...' The picture is thus not of anything to be found in the play itself. The title itself is ambiguous. Is the skull that of Hamlet, or is it the one that Hamlet takes in his hand during the play?

Folger Act/Sc/L: 1.5.210
Arden Act/Sc/L: 1.5.196
TLN: 885.00

Artist: Lefevre
Artist (Original work): Burn, H.
Date: n.d.
Date (Original work):
Medium: Lithograph printed by Lefevre
Size: 20 x 16.8 cms; 7 7/8 6 5/8 in (without caption)
Actor:
Production:

Location: FSL. Art File S528h1 no. 99. Published by S.W. Fores (London); FSL. Art Vol. b63 unnumbered, after p. 156 (with caption).