Image 1 of 19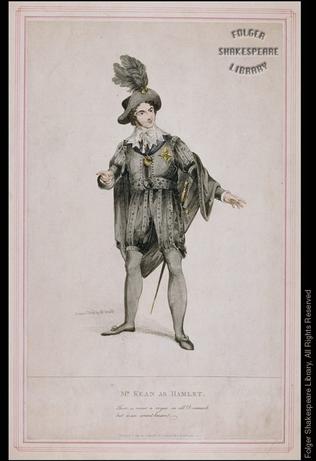 (Click on image to get enlarged view.)

Description: Portrait of Edmund Kean (1787-1833) as Hamlet. Whole length, to left, standing, looking to right. He wears a hat with feathers. His right hand is extended. Below is inscribed: 'There is never a rogue in all Denmark but is an arrant knave.'

Folger Act/Sc/L: 1.5.137
Arden Act/Sc/L: 1.5.29
TLN: 814.00

Artist: Heath, William
Artist (Original work): Heath, William
Date:
Date (Original work):
Medium: Engraving (coloured)
Size: 11 1/4 x 8 3/4 in
Actor: Kean, Edmund
Production:

Location: FSL. Art File K24.4 no. 53; HTC (Kean, Edmund, no. 50). Published by S. Knight.