Image 14 of 19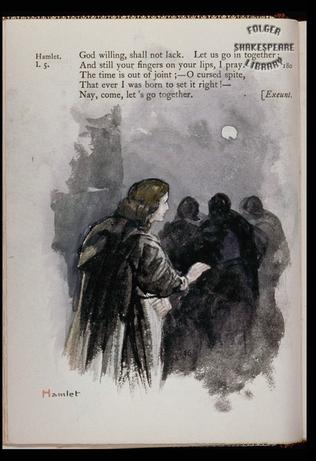 (Click on image to get enlarged view.)

Description: In background, the departing figures of Horatio, Marcellus and Bernardo. In left foreground stands Hamlet, facing right. His right hand is slightly raised in front of him, his left hand held across his waist towards his right hip. He has pale, beardless face and shoulder-length hair. The artist seems to be depicting the lines that close the scene, a possible 'aside': 'O cursed spite,' etc.

Folger Act/Sc/L: 1.5.204
Arden Act/Sc/L: 1.5.190
TLN: 87.00

Artist: Drake, William
Artist (Original work): Drake, William
Date:
Date (Original work):
Medium: Watercolour
Size: 18 x 13 cms; 7 1/8 x 5 1/8 in
Actor:
Production:

Location: FSL. Art Vol. a35, p. 36. From extra-illustrated edition of THE WORKS OF WILLIAM SHAKESPEARE (Westminster: Constable; & Philadelphia: Lippincott, 1857), Vol. XVI.