Image 3 of 19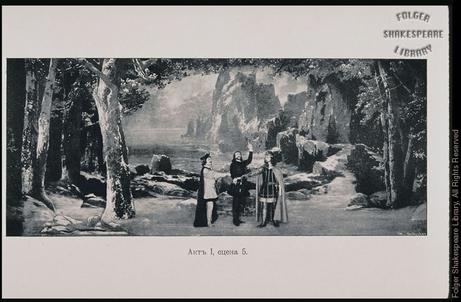 (Click on image to get enlarged view.)

Description: An elaborate wooded setting beside the sea-shore. Trees to right and left, rocks at centre, and behind them a turbulent sea with rocky cliffs beyond. At centre Hamlet stands facing forward but upwards. His left hand is held high above his head. In his right hand he holds his sword out horizontally in front of him. To his left stands Horatio and to his right stands Marcellus. Each of these two extend a hand towards Hamlet's sword. This is obviously the moment at which Hamlet forces them to swear upon his sword.

Folger Act/Sc/L: 1.5.175
Arden Act/Sc/L: 1.5.162
TLN: 851.00

Artist: Schuler, A.
Artist (Original work): Schuler, A.
Date: 1900
Date (Original work):
Medium: Photograph (signed 'A. Schuler')
Size:
Actor:
Production: St. Petersburg (Russia), Imperial Hermitage Theatre, 17 Feb 1900.

Location: FSL. Art Vol. f27, fol. 33.