Image 19 of 19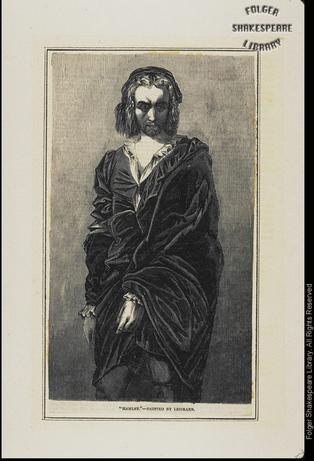 (Click on image to get enlarged view.)

Description:A Christ-like, near full length Hamlet with auburn hair, a long black cloak wrapped around him. He has a beard and is lit from above left. He looks slightly downwards as if in deep thought. The influence of conventional religious art is unmistakable, only the black cloak distinguishing this from many a representation of Christ.

Folger Act/Sc/L: 1.5.210
Arden Act/Sc/L: 1.5.196
TLN: 885.00

Artist: Anonymous
Artist (Original work): Lehmann, Charles Ernest Rodolphe Henri Salem
Date: 1846 c.
Date (Original work):
Medium:Engraving (wood)
Size: 18.5 x 11 cms; 7 1/4 x 4 1/4 in
Actor:
Production:

Location: FSL. Art Vol. b63, opp. p. 90; FSL. Art Vol. b54, Vol. XVII, opp. p. 29.