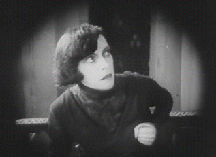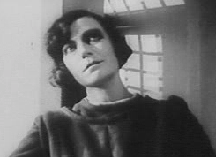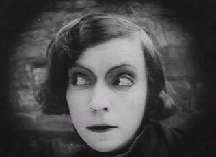 "The Nielsen persona intervened in th[e] process of transformation [from stage to screen]. She used the return of drama in film in order to create in the cinema what the theatre had missed out on: to become a place of female self-determination, where gender relations might be defined. . . . the disruption of the traditional order of gender and of traditional female role models brought about by industrialization and urbanisation belatedly generated a social demand, especially among the female population, aimed at gaining a new self-confidence in gender relations. On this demand Asta Nielsen was to found her production programme." -- Heide Schlüpmann
TO WHAT EXTENT DO YOU THINK THAT THIS FILM CHALLENGES TRADITIONAL GENDER ROLES?

ASTA NIELSEN AND FEMINIST FILM CRITICISM
Is Hamlet mocking and/or seizing the male gaze?
"In a world ordered by sexual imbalance, pleasure in looking has been split between active/male and passive/female. The determining male gaze projects its phantasy on to the female figure which is styled accordingly. In their traditional exhibitionist role women are simultaneously looked at and displayed, with their appearance coded for strong visual and erotic impact so that they can be said to connote to-be-looked-at-ness. . . . Traditionally, the woman displayed has functioned on two levels: as erotic object for the characters within the screen story, and as erotic object for the spectator within the auditorium, with a shifting tension between the looks on either side of the screen." -Laura Mulvey
"But the important question remains: when women are in the dominant position, are they in the masculine position? Can we envisage a female dominant position that would differ qualitatively from the male form of dominance? Or is there merely the possibility for both sex genders to occupy the positions we now know as masculine and feminine?" --E. Ann Kaplan
"Some actresses seem to transcend their roles as sex-objects, to comment on the very nature of spectacle and voyeurism. . . . When Katherine Hepburn, in George Cukor's Sylvia Scarlett (1935), disguises herself as a boy ("Sylvester") in order to travel with her father, the sum effect is to turn the tables, and make "femininity" look like the disguise. Indeed, once Sylvia has become a boy, she has a hard time remembering how to act like a woman." -- Judith Mayne
DO YOU THINK THAT ASTA NIELSEN'S CROSS-DRESSED HAMLET SUCCESSFULLY TURNS THE TABLES ON GENDER STEREOTYPES?
Who's zooming who?
HOW DOES THIS FILM - VIA THE CAMERA, VIA NIELSEN'S OWN GAZE, ETC. -- DIRECT OUR GAZE? WHO SEEMS TO CONTROL THE STORY'S NARRATIVE?
THE ECONOMICS OF THE IMAGE:
In Europe at the time of this film, Asta Nielsen's image was in high demand. As Ann Thompson tells us, "By 1914, she was the most popular film star in Germany and was known all over the world. There were 'Asta' cigarettes, pastries and hair-styles in Germany, and Asta Nielsen cinemas in San Francisco, Dusseldorf and Nagasaki. Her picture decorated trenches on both sides during World War I" (216).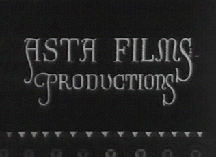 HOW DOES IT IMPACT YOUR READING OF THIS FILM TO KNOW THAT "IN 1920 [NIELSEN] FORMED HER OWN PRODUCTION COMPANY AND CHOSE TO MAKE HAMLET AS ITS FIRST VENTURE" (THOMPSON 217)?