Rule Lines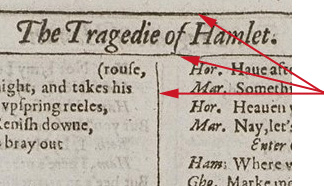 A typical page of the Shakespeare First Folio has rule lines to separate columns of text and double rules at the top of the page for the play title.
The quartos do not have rule lines (click here to see example), and, apart from the aid to reading double-columned text that the folio rule lines provide, they, like the act and scene indicators, the preliminary commendations of the book and its author, and the use of elaborate ornaments, enhance the appearance of the book as a formal, expensive, authoritative edition comparable to editions of classical texts.
Sometimes additional rule lines are added for decorative purposes to take up space at the end of a play: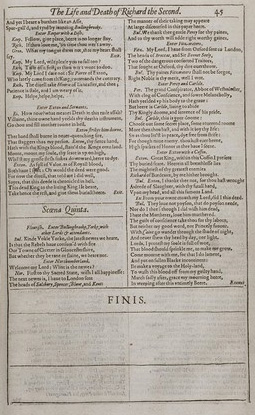 First Folio (1623) - Richard II
Rule lines are also sometimes used to set off a prologue (or epilogue) from the rest of the text as shown in Henry V below: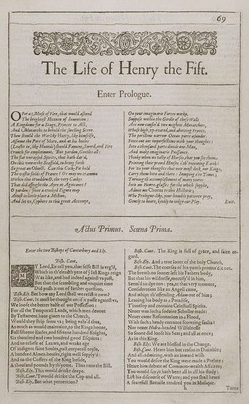 First Folio (1623) - Henry V
Rule lines bend and break easily, and are therefore, like broken type, useful to bibliographers in reconstructing the printing history of the edition.
* * * * * * * * * *
Back to "What is a Folio?"