Richard Burton | Svend Gade | Johnston Forbes-Robertson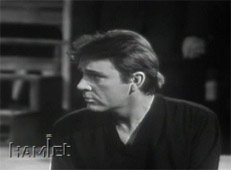 (1.5.28 - 54)
"List, list, O, list. . . . O Hamlet what a falling off was there."


View clip
(1.6MB 1min 27sec RealMedia)
---
SVEND GADE HAMLET (back to top)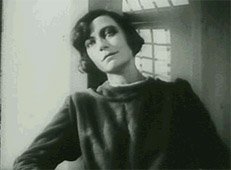 In Svend Gade's film version, we are never shown a scene on the castle ramparts. Instead, much of the information that Shakespeare gives us in 1.4 and 1.5 appears in the film in altered form and in other contexts. Actions merely described in the text are sometimes enacted in the film; and sometimes specific moments in the play inspire entirely new scenes and sequences.

(1.5.28; 1.5.s.d. - 98)
While Hamlet mourns her father, a voice from the tomb calls for revenge.
"If thou didst euer thy dear father love. . . . Revenge his foul and most unnatural murder."
View clip
(1.5MB 57sec RealMedia)
---
FORBES-ROBERTSON HAMLET (back to top)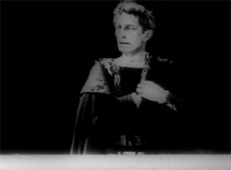 (1.5.s.d. - 98)
"Enter Ghost and Hamlet. . . .Adieu, adieu, Hamlet! Remember me. Exit."
View clip
(1.2MB 45sec RealMedia)