Image 11 of 20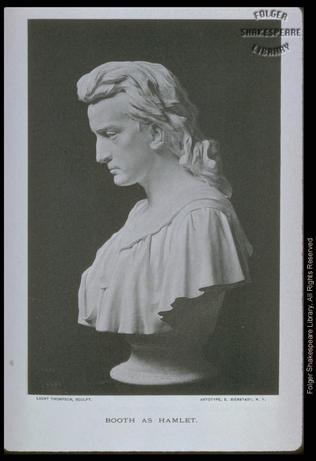 (Click on image to get enlarged view.)

Description: Portrait bust of Edwin Booth, hair pulled back from face, pensive gaze directed downwards. In this illustration, the sculpture has been placed facing left in profile.

Folger Act/Sc/L: n/a
Arden Act/Sc/L: n/a
TLN: n/a

Artist: Bierstadt, E. (New York)
Artist (Original work): Thompson, Launt
Date:
Date (Original work): 1863
Medium: Photograph (artotype) of original sculpture
Size: 13.5 x 9 cms; 5 3/8 x 3 5/8 in
Actor: Booth, Edwin
Production:

Location: FSL. Art Vol. a6 opp. p. 104. In extra-illus. ed. of William Winter, LIFE AND ART OF EDWIN BOOTH (New York: Macmillan, 1893), Part II.