Image 12 of 20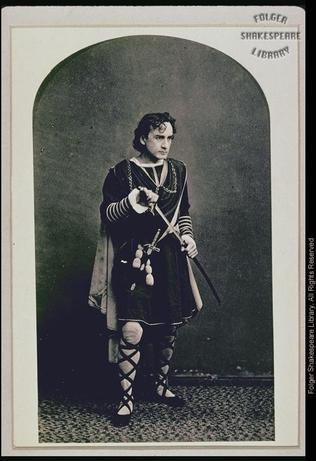 (Click on image to get enlarged view.)

Description: Portrait of Edwin Booth as Hamlet. Full length standing, slightly to right, facing slightly to right. With his left hand he holds the scabbard of his sword, and with his right hand he draws the sword about half way, all the time staring intently slightly downward. He wears a thigh-length tunic, a cloak, a chain around his neck and a dagger at his waist.

Folger Act/Sc/L: n/a
Arden Act/Sc/L: n/a
TLN: n/a

Artist: Anonymous
Artist (Original work): Anonymous
Date:
Date (Original work):
Medium: Photograph
Size: 13.3 x 7.7 cms; 5 1/4 x 3 1/16 in (arched)
Actor: Booth, Edwin
Production:

Location: FSL. Art Vol. d39 (Album of photographs - all unnumbered), folio 2.