Image 3 of 20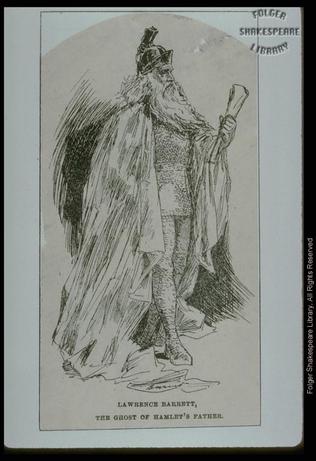 (Click on image to get enlarged view.)

Description: Portrait of Lawrence Barrett (1838-91) as the Ghost. Full length, standing, to right, facing right. He wears long cloak, helmet, and armour. He has long white beard and in his left hand that is held shoulder high, he appears to hold a scroll of paper (intended to represent truncheon).

Folger Act/Sc/L: n/a
Arden Act/Sc/L: n/a
TLN: n/a

Artist: Burns
Artist (Original work): Burns
Date:
Date (Original work):
Medium: Engraving (wood)
Size: 12 x 6.5 cms; 4 3/4 x 2 1/2 in
Actor: Barrett, Lawrence (Ghost)
Production:

Location: FSL. Art Vol. a6 no. 109. From extra-illustrated ed. of William Winter, LIFE AND ART OF EDWIN BOOTH (New York: Macmillan, 1893), Pt. II (opp. p. 296).