Image 11 of 14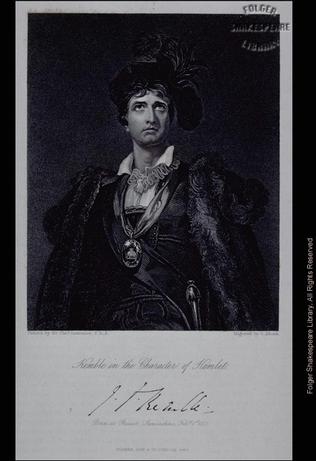 (Click on image to get enlarged view.)

Description: John Philip Kemble as Hamlet. Half length, forward, eyes raised. Clearly based on Lawrence. He wears plumed hat and Order of the Elephant on ribbon around his neck.

Folger Act/Sc/L: n/a
Arden Act/Sc/L: n/a
TLN: n/a

Artist: Adcock, G.
Artist (Original work): Lawrence, Thomas
Date: 1833
Date (Original work): 1801
Medium: Engraving
Size: 11.3 x 9.1 cms; 4 1/2 x 3 5/8 in (23 x 14.3 cms. full plate)
Actor: Kemble, John Philip
Production:

Location: FSL. Art Vol. a41, vol. 5, opp. p.141 (dated 1844); FSL. Art Vol. a1 no. 19; HTC (Beard f19-27). Published Fisher (London 1844); FSL. Art File K31.4 no. 21 (dated 1833), no. 22(dated 1842), no. 23(dated 1844), no. 20(undated) & Art Vol. d55 no. 55 (1833).