Image 10 of 14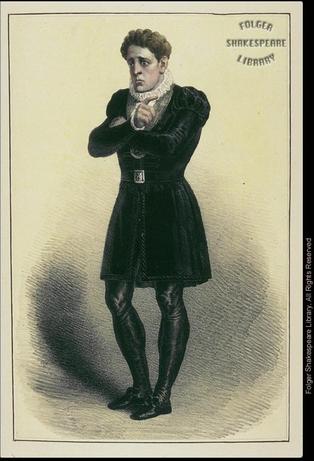 (Click on image to get enlarged view.)

Description: Portrait of Charles Kemble as Hamlet. Full length, slightly to left, facing slightly left, eyes wide open and staring as if in fright or horror. His arms are folded across in front of him, but his right index finger is raised and pointed off to right. He wears knee-length black tunic with belt that has square buckle. He has a white ruff. Around his neck hangs what appears to be the Order of the Elephant, although it is only partially visible.

Folger Act/Sc/L: n/a
Arden Act/Sc/L: n/a
TLN: n/a

Artist: Anonymous
Artist (Original work): Anonymous
Date:
Date (Original work):
Medium: Lithograph (coloured)
Size: 25.3 x 16.5 cms; 10 x 6 1/2 in (possibly clipped)
Actor: Kemble, Charles
Production:

Location: FSL. Art Vol. b56, Vol. 5. From extra-illus. copy THE DRAMATIC WORKS OF SHAKSPEARE, rev. George Steevens (London: Bulmer for John & Josiah Boydell, 1802), opp. p. 94.