Image 1 of 14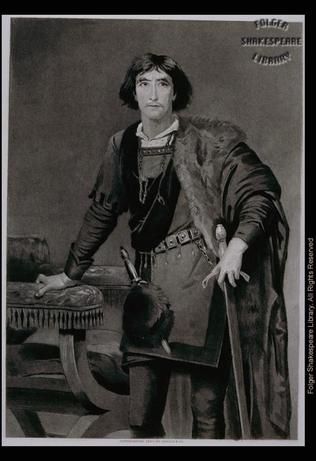 (Click on image to get enlarged view.)

Description: Portrait of Sir Henry Irving as Hamlet. Knee-length, standing, forward, facing forward. Hamlet is dressed in black. He has a chain around his neck. At his waist is both a dagger and a sword. With his right hand he leans upon the arm of a chair. His left hand holds the hilt of his sword.

Folger Act/Sc/L: n/a
Arden Act/Sc/L: n/a
TLN: n/a

Artist: Goupil & Co.
Artist (Original work): Long, Edwin
Date: 1887
Date (Original work): 1880
Medium: Photogravure
Size: 23 x 16.5 cms; 9 x 6 1/2 in
Actor: Irving, Henry
Production:

Location: FSL. Art Flat a26 no. 68 (larger version no. 65); FSL. Art Vol. b18 frontispiece; FSL. Art File I72 no. 50 (49 x 35 cms); HTC (Irving, Henry, nos. 163-5) has three photogravures of different sizes of this work, two by Goupil; FSL. Art File I72 no. 13.