Image 1 of 20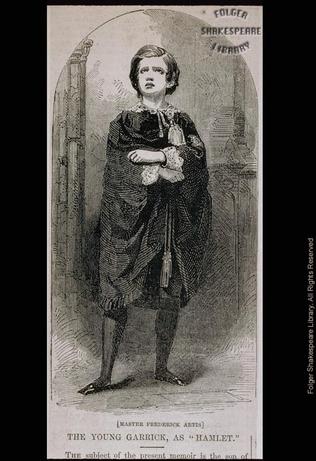 (Click on image to get enlarged view.)

Description: Portrait of nine-year-old Master Frederick Artis as Hamlet. Full length, standing, forward, feet slightly apart, eyes raised to left. He wears lace collar and cuffs and knee-length cape. His arms are crossed in front of him.

Folger Act/Sc/L: n/a
Arden Act/Sc/L: n/a
TLN: n/a

Artist: Anonymous
Artist (Original work): Anonymous
Date:
Date (Original work):
Medium: Engraving (wood) (unsigned)
Size: 12.5 x 6.3 cms; 4 7/8 x 2 1/2 in
Actor: Artis, Master Frederick
Production:

Location: FSL. PR2807 P65b ex. ill. Henry P. Phelps, HAMLET FROM THE ACTORS' STANDPOINT (New York: Werner, 1890), unnumbered.