Image 14 of 14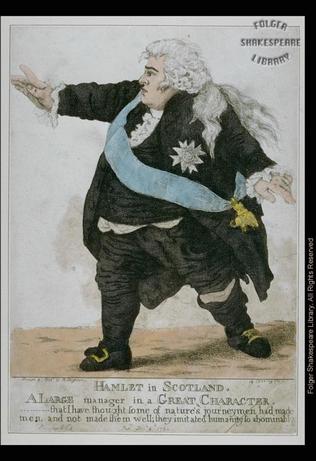 (Click on image to get enlarged view.)

Description: Caricature of Stephen Kemble entitled 'Hamlet in Scotland. A Large Manager in a Great Character.' Kemble in contemporary court dress, blue sash over right shoulder with star insignia on left breast. He wears the Order of the Elephant which hangs from the blue sash upon his left hip. He is dressed in black with a white wig. His left stocking is 'down-gyved.' He poses in classic 'start' posture. The picture is accompanied by a quotation: '...that I have thought some of nature's journeymen had made men, and not made them well; they imitated humanity so abominably.'

Folger Act/Sc/L: n/a
Arden Act/Sc/L: n/a
TLN: n/a

Artist: Dighton, Robert
Artist (Original work): Dighton, Robert
Date: 1794
Date (Original work):
Medium: Etching (coloured). 'Drawn & Etched by R. Dighton...1794'
Size: 19.5 x 16 cms; 7 3/4 x 6 1/4 in (full plate 22.5 x 16 cms)
Actor: Kemble, Stephen
Production:

Location: FSL. Art Vol. b48 (unnumbered); FSL. Art Vol. d55 no. 81; FSL. Art File K31.8 no. 3; FSL. Art Vol. d5 no. 16.