Image 13 of 14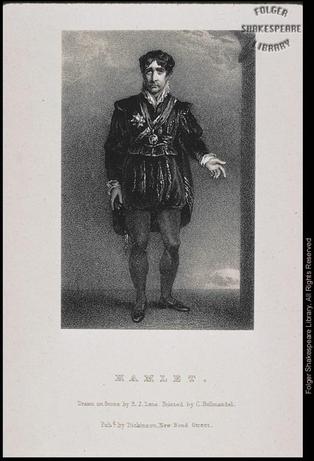 (Click on image to get enlarged view.)

Description: Portrait of John Philip Kemble as Hamlet. Full length, standing, forward, facing forward. Right arm at side holding hat, left hand slightly extended as though gesturing to make a point. He wears trunk hose with panels and short cloak. Around his neck on ribbon is chivalric order and on right breast is star-shaped insignia. The horizon is very low and there is a full moon barely visible above the horizon at right. The work would appear to have been influenced by the Thomas Lawrence painting.

Folger Act/Sc/L: n/a
Arden Act/Sc/L: n/a
TLN: n/a

Artist: Lane, Richard James (printed by Charles Hullmandel)
Artist (Original work): Lane, Richard James
Date:
Date (Original work):
Medium: Lithograph
Size: 8.5 x 5.5 cms; 3 1/4 x 2 1/4 in
Actor: Kemble, John Philip
Production:

Location: FSL. PR2755 K7 A2 Copy 5 v.5 Sh. Coll. From ex-illus THE PICTORIAL EDITION OF THE WORKS OF SHAKSPERE, ed. Charles Knight (London: Charles Knight, nd), after p. 100; FSL. PR2755 K7 A2 Copy 4 Vol. ; FSL Art Vol. d55; FSL. Art File K31.4 no. 41 pt. 2.