Image 12 of 12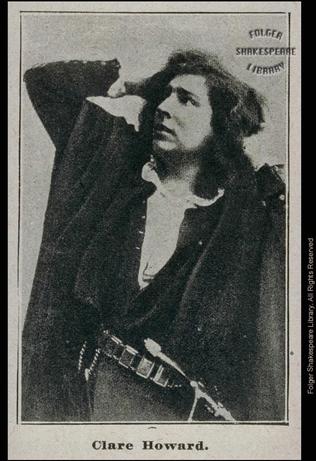 (Click on image to get enlarged view.)

Description: Portrait of Clare Howard as Hamlet. Three-quarter length, slightly to left, facing to left. Both hands are raised to the rear of her head as though in fright. She looks slightly upward. The picture would appear to depict the moment at which Hamlet sees the Ghost. She wears a metal belt and sword, a white shirt, and black cape.

Folger Act/Sc/L: n/a
Arden Act/Sc/L: n/a
TLN: n/a

Artist: Anonymous
Artist (Original work): Anonymous
Date:
Date (Original work):
Medium: Photograph (in newspaper or magazine)
Size: 7.6 x 5 cms; 3 x 2 in
Actor: Howard, Clare
Production:

Location: FSL. Art Vol. b48 (unnumbered). From copy of Laurence Hutton's A CENTURY OF HAMLET (New York, 1893).