Image 11 of 12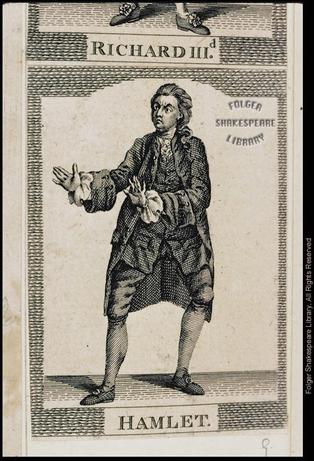 (Click on image to get enlarged view.)

Description: David Garrick in four of his principal roles. That of Hamlet shows him in pose of 'start', forward, facing slightly left, both arms extended in front of him at waist height, palms to the viewer and fingers extended, legs wide apart, weight on rear (left) foot. He wears contemporary dress (knee-length breeches, knee-length coat, large loose cuffs, a wig).

Folger Act/Sc/L: n/a
Arden Act/Sc/L: n/a
TLN: n/a

Artist: Anonymous
Artist (Original work): Anonymous
Date: 1770 c.
Date (Original work):
Medium: Engraving
Size: 7.1 x 4.9 cms; 17.5 x 12 cms (full plate size)
Actor: Garrick, David
Production:

Location: FSL. Art Vol. d94 no. 104 (g). 'Garrick and his Contemporaries' Collected by George Daniel; FSL. Art Vol. d45 no. 220; FSL. W.b.473, Vol. 1, p. 244; FSL. W.b.476, Vol. 4, p. 473.