Image 8 of 15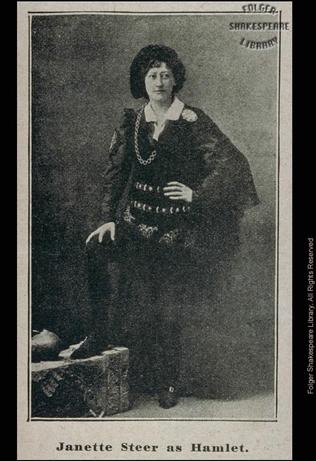 (Click on image to get enlarged view.)

Description: Portrait of Janette Steer as Hamlet. Full length, standing, forward, facing slightly to right. Right foot is raised and resting upon some kind of step. Her right hand is upon her right thigh, her left hand upon her left hip. She wears short tunic, short cape, and bonnet. There appears to be some kind of insignia on her left shoulder.

Folger Act/Sc/L: n/a
Arden Act/Sc/L: n/a
TLN: n/a

Artist: Anonymous
Artist (Original work): Anonymous
Date:
Date (Original work):
Medium: Photograph (in newspaper or magazine)
Size: 8 x 5 cms; 3 1/8 x 1 7/8 in
Actor: Steer, Janette
Production:

Location: FSL. Art Vol. b48 (unnumbered). From copy of Laurence Hutton's A CENTURY OF HAMLET (New York, 1893).