Image 7 of 15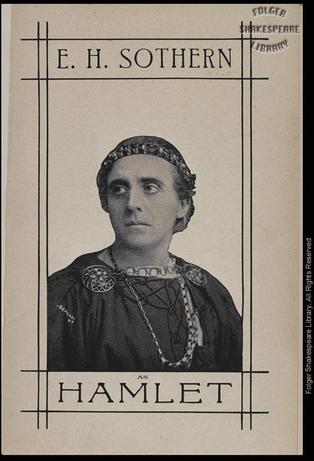 (Click on image to get enlarged view.)

Description: Portrait of Edward H. Sothern (1859-1933) as Hamlet. Bust length, slightly to right, facing slightly to left, with eyes to left. He wears band around head and chain around neck.

Folger Act/Sc/L: n/a
Arden Act/Sc/L: n/a
TLN: n/a

Artist: Schloss (New York)
Artist (Original work): Schloss (New York)
Date: 1900-1904 ?
Date (Original work): 1900 c.
Medium: Photograph (reproduction of) (Signed 'Schloss N.Y. but undated)
Size: 20.2 x 12.4 cms; 7 7/8 x 4 7/8 in (includes title and borders)
Actor: Sothern, Edward H.
Production:

Location: FSL. PR3112 B7. E.H. SOTHERN AS HAMLET, title-page.