Image 6 of 20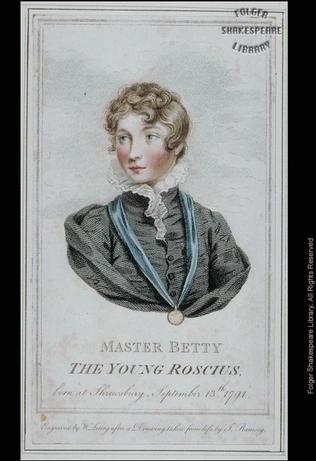 (Click on image to get enlarged view.)

Description: Portrait of Master William Betty ('The Young Roscius'), born at Shrewsbury, 13 Sept. 1791 (died 1874). Bust, forward, facing left. He wears black tunic and has miniature or chivalric order (it appears to depict St. George on horseback - the Garter) on blue ribbon around neck.

Folger Act/Sc/L: n/a
Arden Act/Sc/L: n/a
TLN: n/a

Artist: Leney, William Satchwell
Artist (Original work): Ramsey, James
Date: 1805 ?
Date (Original work): 1805 ?
Medium: Engraving (coloured)
Size: 13 x 10 cms; 5 1/4 x 4 in (picture only)
Actor: Betty, William Henry West
Production:

Location: FSL. Art Vol. b63 unnumbered (at front of volume). From extra-illustrated copy of THE PICTORIAL EDITION OF SHAKSPERE (London: Charles Knight, 1839), Pt. X (HAMLET).