Image 7 of 20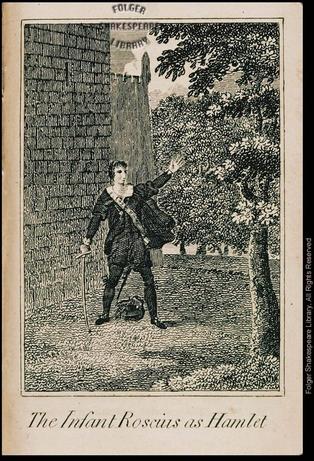 (Click on image to get enlarged view.)

Description: Portrait of William Henry West Betty (1791-1874), the child prodigy actor, as Hamlet. Whole length, forward, facing right, standing, legs apart, sword in right hand, point on ground, left arm extended upward to right. In the background are trees to right and the castle wall to left. Below is inscription: 'The Infant Roscius as Hamlet.'

Folger Act/Sc/L: n/a
Arden Act/Sc/L: n/a
TLN: n/a

Artist: Anonymous
Artist (Original work): Anonymous
Date: 1804-1805 ?
Date (Original work):
Medium: Etching
Size: 9.5 x 6.8 cms; 3 7/8 x 2 3/4 in
Actor: Betty, William Henry West
Production:

Location: FSL. PR2598 B65 A9 opp. p. 24; HTC (Betty, W.H.W., no. 43). Plate to AUTHENTIC MEMOIRS OF THE WONDERFUL PHENOMENON THE INFANT ROSCIUS (London: W. Hodgson, n.d.), opp. p. 24.