Image 5 of 15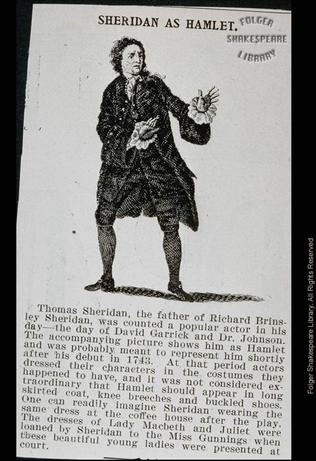 (Click on image to get enlarged view.)

Description: Portrait of Thomas Sheridan (1719-1788) as Hamlet. He stands in classic 'start' pose, full length, forward, facing right, both hands raised and extended to right. He wears breeches, waistcoat and top coat, and lace cuffs (contemporary eighteenth-century dress).

Folger Act/Sc/L: n/a
Arden Act/Sc/L: n/a
TLN: n/a

Artist: Anonymous
Artist (Original work): Anonymous
Date:
Date (Original work):
Medium: Engraving (wood) (unsigned and undated)
Size: 6 x 4 cms; 2 3/8 x 1 1/2 in
Actor: Sheridan, Thomas
Production:

Location: FSL. Art Vol. a43 vol. 1. From extra illustrated copy of THE NEW VARIORUM EDITION OF SHAKESPEARE: HAMLET (Philadelphia: Lippincott, 1877), opp. p. 418.