Image 4 of 15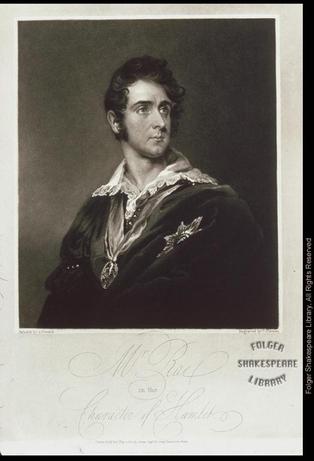 (Click on image to get enlarged view.)

Description: Portrait of Alexander Rae (1782-1820) as Hamlet. Half length, to left, facing to right. He wears star insignia on left breast of cloak and miniature or chivalric order on ribbon around neck. He wears an elaborate pointed lace collar. He is clean shaven (but with sideburns) and is hatless. Caption below: 'Mr Rae in the Character of Hamlet.'

Folger Act/Sc/L: n/a
Arden Act/Sc/L: n/a
TLN: n/a

Artist: Turner, Charles
Artist (Original work): Pocock, Isaac
Date: 1814
Date (Original work):
Medium: Mezzotint (signed 'Painted by J. Pocock' 'Engraved by C. Turner')
Size: 25.8 x 21.5 cms; 10 x 8 5/8 in
Actor: Rae, Alexander
Production:

Location: FSL. Shakespeare Scrapbook (Flat), 18th-19th centuries. Vol. 10, Hamlet, fol. 46. Published by James Dunford (London 2 May 1814).