Image 8 of 12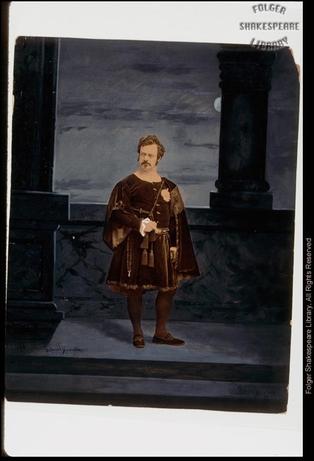 (Click on image to get enlarged view.)

Description: Portrait of Edwin Forrest as Hamlet. Full length, standing, head very slightly to left. His right arm is across his front at waist height, and his left arm is at his side. We wears tunic and short cape attached by cords with large tassels. He stands before a wall and two round columns, and the whole is backlit (except for the figure of Forrest) by the full moon, which is partially obscured by the column at right.

Folger Act/Sc/L: n/a
Arden Act/Sc/L: n/a
TLN: n/a

Artist: Harrison, Gabriel
Artist (Original work): Anonymous
Date: 1866
Date (Original work):
Medium: Opaque over photograph (signed and dated)
Size: 49.5 x 39 cms; 15 1/2 x 20 in
Actor: Forrest, Edwin
Production:

Location: FSL. Art Box H319 no. 1.