Image 7 of 12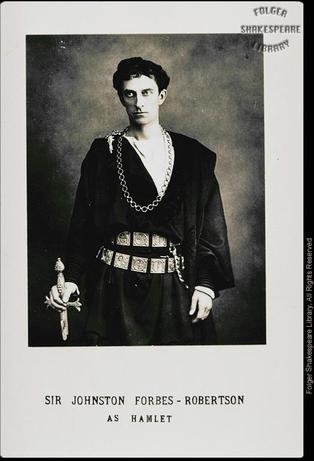 (Click on image to get enlarged view.)

Description: Portrait of Johnston Forbes-Robertson as Hamlet. Three-quarter length, standing, forward, facing forward, eyes slightly to left. He has removed sword from his belt and holds hilt in right hand. Presumably the point is resting upon the ground. His left arm is at his side. He wears a tunic, double metal belt, and a chain around his neck. He eyes are wide and he has a pensive look.

Folger Act/Sc/L: n/a
Arden Act/Sc/L: n/a
TLN: n/a

Artist:
Artist (Original work):
Date: 1897 (?)
Date (Original work):
Medium: Photograph
Size: 14.7 x 10.9 cms; 5 3/4 x 4 1/4 in
Actor: Forbes-Robertson, Johnston
Production:

Location: FSL. Art File F695 no. 3 Photo (Harold Seton Collection); SC (P.C.72.07/1897 London LYC).