Image 6 of 12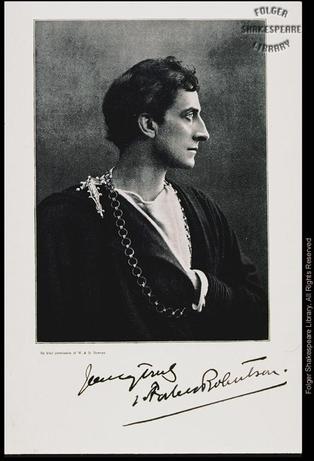 (Click on image to get enlarged view.)

Description: Portrait of Johnston Forbes-Robertson as Hamlet. Half length, to right, facing right in profile. His left hand is tucked inside his cloak or doublet at his chest. Below is caption 'By kind permission of W. & D. Downey.'

Folger Act/Sc/L: n/a
Arden Act/Sc/L: n/a
TLN: n/a

Artist: Downey, W. & D. (London)
Artist (Original work): Downey, W. & D. (London)
Date: 1897
Date (Original work):
Medium: Photograph (reproduction of)
Size: 14.2 x 10.4 cms; 5 5/8 x 4 1/8 in
Actor: Forbes-Robertson, Johnston
Production: Lyceum, 1897.

Location: FSL. PR2807 1897a Sh. Coll. HAMLET ... AS ARRANGED FOR THE STAGE BY FORBES ROBERTSON AND PRESENTED AT THE LYCEUM THEATRE ON SATURDAY, SEPTEMBER 11, 1897. WITH ILLUSTRATIONS BY HAWES CRAVEN (London: Nassau Press, 1897), frontispiece.