Image 3 of 12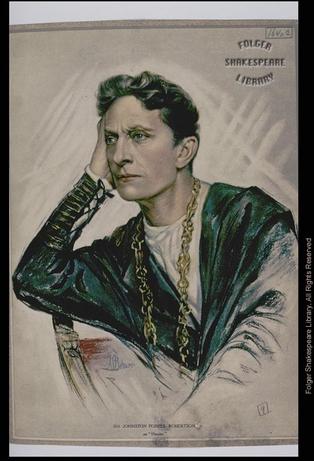 (Click on image to get enlarged view.)

Description: Portrait of Johnston Forbes-Robertson as Hamlet. Half length, seated, to left, his head supported by his right hand, his right elbow resting upon the arm of his chair. His right hand is to the side of his face, He wears dark upper garment with white shirt beneath. Around his neck is gold-coloured chain.

Folger Act/Sc/L: n/a
Arden Act/Sc/L: n/a
TLN: n/a

Artist: Bohuen
Artist (Original work): Bohuen
Date:
Date (Original work):
Medium: Lithograph (coloured) ? (signed)
Size: 27 x 19.3 cms; 10 1/2 x 7 5/8 in
Actor: Forbes-Robertson, Johnston
Production:

Location: FSL. Hamlet Scrapbook, Vol. 1 1640 A.