Image 4 of 12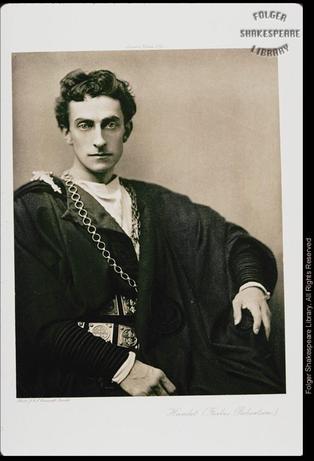 (Click on image to get enlarged view.)

Description: Portrait of Johnston Forbes Robertson (1853-1937) as Hamlet. Three-quarter length, seated, forward, facing forward, eyes as if unfocused, his left arm on arm of chair, his right arm resting on lap. He wears cloak over his left shoulder, chain round neck and double belt with large rectangular metal pieces.

Folger Act/Sc/L: n/a
Arden Act/Sc/L: n/a
TLN: n/a

Artist: Smith, Lizzie Caswall
Artist (Original work): Smith, J. & L. (Lizzie) Caswall
Date:
Date (Original work): 1897 ?
Medium: Photogravure (signed but not dated)
Size: 23.8 x 18.5 cms; 9 3/8 x 7 1/4 in
Actor: Forbes-Robertson, Johnston
Production:

Location: FSL. Art File F695 no. 16. Photo.