Image 20 of 20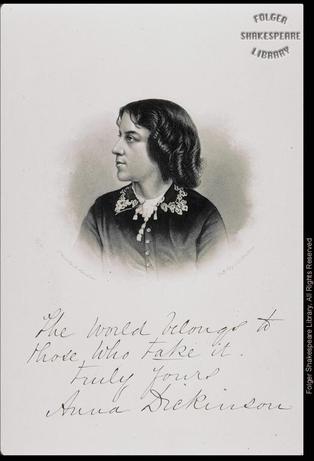 (Click on image to get enlarged view.)

Description: Portrait of Anna Dickinson, possibly as Hamlet. Bust length, forward, head to left in profile. She wears dark upper garment that is buttoned to top, but one cannot tell whether this is a doublet or dress. She has a collar embroidered with lace.

Folger Act/Sc/L: n/a
Arden Act/Sc/L: n/a
TLN: n/a

Artist: Buttre, John Chester
Artist (Original work): Gardner, A.
Date:
Date (Original work):
Medium: Engraving (signed)
Size: 7.5 x 8 cms; 3 x 3 1/4 in (irregular)
Actor: Dickinson, Anna
Production:

Location: FSL. Art Vol. b52. Ex. illus. copy of Henry P. Phelps, HAMLET FROM THE ACTORS' STANDPOINT (New York: Werner, 1890), after p. 52.