Image 19 of 20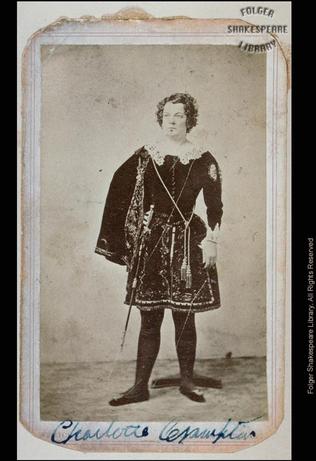 (Click on image to get enlarged view.)

Description: Portrait of Charlotte Crampton as Hamlet. Full length, standing, forward, facing left. Legs slightly apart. Left hand at side, right hand possibly on right hip beneath short cape draped on right arm. She has elaborate lace collar and pointed lace cuffs. She wears a short sword. There is an heraldic order or insignia on the top of her left arm. She has short curly hair.

Folger Act/Sc/L: n/a
Arden Act/Sc/L: n/a
TLN: n/a

Artist: Anonymous
Artist (Original work): Anonymous
Date:
Date (Original work):
Medium: Photograph
Size: 8.7 x 5.3 cms; 3 1/2 x 2 1/8 in
Actor: Crampton, Charlotte
Production:

Location: FSL. PR2807 P65b ex. ill. Henry P. Phelps, HAMLET FROM THE ACTORS' STANDPOINT (New York: Werner, 1890), numbered as '37'.