Image 1 of 15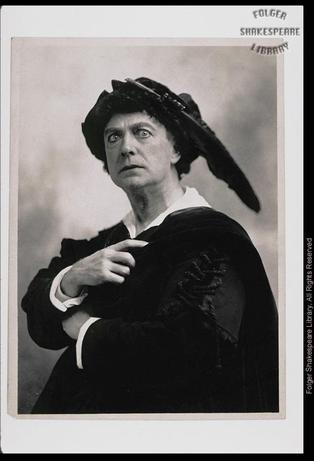 (Click on image to get enlarged view.)

Description: Portrait of Robert Bruce Mantell (1854-1928) as Hamlet. Half length, to left, facing forward, eyes wide and staring. His left arm is wrapped across his chest, and his right arm also rests upon his chest but higher up. He wears plumed bonnet and dark cloak. Inscription on front of photo: 'To William Winter yours R.B. Mantell. Hamlet.'

Folger Act/Sc/L: n/a
Arden Act/Sc/L: n/a
TLN: n/a

Artist: Anonymous
Artist (Original work): Anonymous
Date:
Date (Original work):
Medium: Photograph
Size: 17.2 x 12.2 cms; 6 3/4 x 4 3/4 in
Actor: Mantell, Robert Bruce
Production:

Location: FSL. Art File M292.8 no. 10. Photo.